In this, part 3 of 4, we look at food trends related to our spirit of community, compassion and authenticity. Read parts one and two here.
Provenance, Plant-Based and Regional
Amid a faster pace of life, according to the Waitrose & Partners Food & Drink Report 2018-19, six in 10 people are rising earlier than they used to, to exercise, create 'me time' or get things done. Part of this trend, people are seeking community, compassion and authenticity; even in their food choices.
6. Community:
We have seen a move to verify quality in prioritising provenance with the growth of small scale farms and farmers' markets. Large retailers are catching up with this trend by adopting small-scale formats in some places – such as Coles' very first Local shop (featuring local produce, an in-store chef, and a barista), which opened in 2018 in Melbourne.
Increasing demand for trust in our food sources has led to blockchain and other technologies being employed by larger food companies to justify and reinforce a reputation for authenticity that would have naturally come about in smaller communities. The standard of this verification at a large scale thus looks set to rise.
7. Compassion:
Meatless meals are gaining in popularity around the world; and in new adaptable ways. Vegetarianism, veganism, and flexitarian diets reflect emerging perspectives of the world: concern for sustaining human life on earth, a quest for physical perfection and compassion for living things – with many transitioning between the labels, even throughout their week. In a study by Waitrose & Partners, half of all those who said they were vegan or vegetarian also eat meat 'at weekends', 'occasionally' or 'on special occasions'.
According to Mintel, 15% of the USA's population identify as vegetarian or vegan, and in 2017 31% of consumers participated in meat-free days once per week (Mintel, Protein Report, 2017).  Across the Atlantic, one third of the UK's population (33.5%) now have meat-free or meat-reduced diets, which includes one in eight Brits (13%) who identify as vegan or vegetarian, and 21% as flexitarian (Waitrose & Partners).
Although demand for protein is at an all-time high (according to the USDA), and keto and paleo diets are also on the rise; vegan and vegetarian sources of protein are also growing in demand, reflecting that many consumers want both.
The market for plant-based and other alternative proteins are expected to rise to USD$5.2 billion by 2020, with research by JWT Intelligence finding that "74% of US and UK Millennials are willing to change their diet in order to reduce the impact on the planet." (WGSN Insider)
And some of the largest brands in food are listening; McDonalds, for example, is trialling a McVegan burger in select branches in Finland. (WGSN Insider)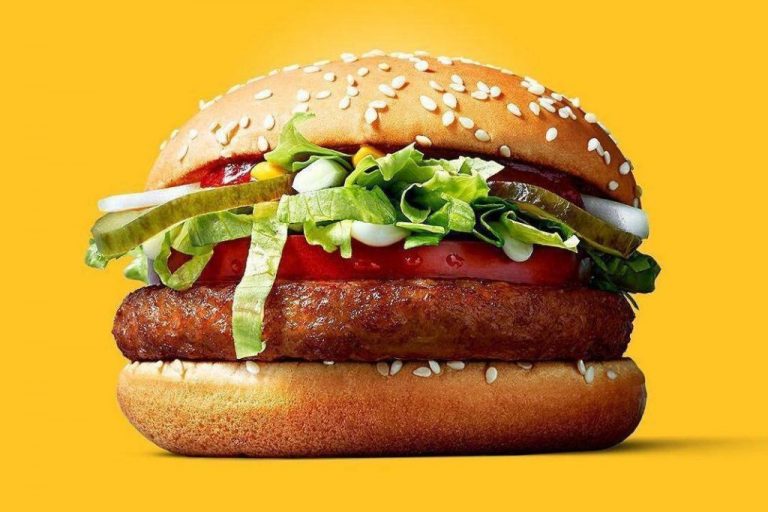 The McDonald's McVegan Burger
On our home shores, the US cult brand Beyond Meat has launched a plant-based burger patty into IGA stores nationally and in Coles supermarkets in NSW. The vegan patties "bleed" when cooked, and boast 20g of protein per patty. Additionally, they contain more iron and less fat than their ground-beef counterpart, and are soy, gluten, GMO and cholesterol free.
8. Authenticity:
The search for authentic food and beverage experiences is influencing taste perceptions and preferences. Regional flavours (both local and international) increasingly signifying such authenticity. According to Kroger, regional flavors are set to take off in 2019.
Flavours drawing on local plants, such as native Australian ingredients; as well as products with claims to excellence for what a region does best are garnering more interest. Traditional ethnic meals delivered with convenience have also gained in popularity. We expect distinct local and global flavours to continue to rise in interest.
This is an exciting time to be in food. More than ever, consumers are open to unconventionality, in packaging, ingredients and ethos; and are seeking both tradition and innovation. They expect more of their food and of their suppliers; and they are in many cases, willing to pay for it. This is not an isolated instance; these trends are echoing around the world. However they are not displaying identically in each and every market; each market has its own history, culture, and people with which these trends mix. If you're interested in learning more about the nuances of a particular market and category, reach out. This is our area of specialisation and we'd be more than happy to help.
Photo by Leigh Cooper on Unsplash