Our Business Development & Project Manager Oujan Paad recently celebrated his 2nd work anniversary at Export Connect! Oujan brings his energy and core values to every project he delivers, and our clients notice. Let's hear what Oujan has to say.
What does your typical day at work look like?
On a typical day, I'm usually in the office by 8 am, read and respond to emails received from international buyers or in-market representatives overnight, before turning my attention to project work. One of the best things about being a Project Manager at Export Connect is that I get to lead and deliver both client and stakeholder projects. I may start by working on a client project where I'd create a detailed market insight report, review competitor pricing or develop a market-specific pitch deck. Then after lunch, I'll be creating export workshop slides that we'll be delivering for a government agency or industry association. In the process, I help mentor university interns that we are fortunate to have work on client projects with us. No one day is ever the same!
What projects are you currently working on?
Playing a key role in Business Development, I am currently responding to several RFQ's (requests for a quote) from stakeholder clients. I've also been responding to enquiries from food businesses in Singapore and New Zealand, so we'll soon be exporting our very own services too! I'm also busy completing several client projects before the Christmas break.
What's the coolest thing that has happened to you?
I've got two equally cool things that happened to me. First, Nike's marketing team found a photograph that I had taken at a football game and posted on Instagram and contacted me to license the image. Long story short, my photo was printed on shirts that were sold in Rebel Sports outlets across Australia. Second, I was sponsored by New Balance Australia for 12 months. After uploading a video of myself kicking a football around, I was selected for their "Blackout Squad"; they sent through a care package every 3 months with shirts, football boots, socks, and running shoes. Needless to say, I saved a lot of money that year!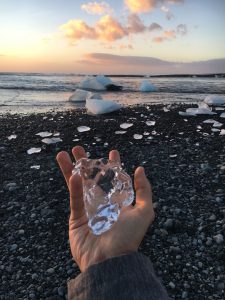 What's your most memorable experience?
Travelling around Iceland for 5 days was definitely a memorable experience for me; we started the trip by heading to the Blue Lagoon, which is one of the top 25 wonders of the world. We ended the trip with a five-hour drive across the country to Black Diamond Beach!
What's your favourite quote?
"Don't count the days, make the days count" – Muhammad Ali
What are you looking forward to in 2020?
From a professional context, I look to further my Project Management and Business Development skills; I'm also contemplating whether or not I should commence my MBA in 2020 or 2021. From a personal perspective, I'm looking forward to visiting Singapore and Japan – I'm travelling just before the 2020 Olympics, so hopefully, there will be plenty of great memorabilia on show!